A collection of news articles about schools and education - sometimes specifically about Stafford County Schools, but also from other parts of Virginia or the country.
Friday, November 1, 2019 12:00 AM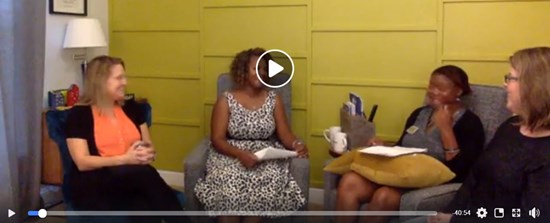 "Unchain with Lady Leverette "
Joining us today for a good conversation is Candidate Jess Foster of the 88th Distract and Candidate Carol Medawar of the 28th district.
Being a career mother and the struggle! How can we influence them to become productive leaders and value their civil duties.
#momprenuers #authenticconversation #ladyleverette #toprealtor #coach #author #speaker
yestojess@jessfoster.org
Medawar4schoolboard.com
LadyLeverette.com
thehildrethteam.com
---
Monday, October 28, 2019 12:00 AM
Information from the Free Lance Star about school board elections.
After decades of being in the classroom, I am ready to advocate for kids and educators as your school board member.
I've worked hard for students my entire career. This isn't a hobby, our kids deserve an experienced leader on the board.
---
Wednesday, October 23, 2019 12:00 AM
Tonight I went to the school board meeting. I went to support our hard working bus drivers. I have done this before. Tonight was different. On the agenda was bus driver, bus monitor, and lead driver pay scale changes.
A driver came over to say hello and asked how my girls were. My girls have been driving to HS for many years now, but this lovely woman remembered them. This is why rewarding loyalty, and experience matters. They know the families and they know our kids. They are often the first ones to greet our students and last to see them home. There is so much they do that often goes unnoticed. We ask them to attend training, drive in our crazy traffic, and nurture our most precious cargo.
When I took a turn to speak during citizens comments I forgot to state my name. It feels silly sometimes because the board members all know who I am. I have had many conversations with each of them. I hope voters know that I did not speak because I was a candidate or was looking for name recognition. I spoke because respecting our bus drivers and improving their working conditions really matter to me. None of this work or campaign is about me. It is all for the staff and students of SCPS. I have no political agenda or aspirations. I am not looking to run for higher offices. This is not the first time I have spoken out for our drivers and many of them I consider great friends. I am soooooo happy for them and what this decision will mean for their families. I'm so happy for what this means for students. There were cheers in the room! There were many smiles. It feels good to leave a board meeting knowing great things happened for kids.
There is still more to do but a positive step in rewarding and recognizing value for the work of our education support personnel! Keep this momentum going.
Now where can we find some new drivers?
---
Friday, October 18, 2019 12:00 AM
These important decisions are why you need to vote for an experienced educator on the school board.
I have been in the classroom before the standardized testing craze began and during it. I have watched hundreds of educators leave because of the nonsense of evaluating them primarily on test scores.
Local school boards will be the ones implementing these changes and our teachers deserve someone at the table speaking to what the testing insanity has done to learning.
There are some good things we could do with the information we get from test scores and it should be ONE of the data points we use to think about how to continually improve instruction and help kids. It should not be the primary tool. It shouldn't take up the amount of time we give it or drive the schedule. It should not be the monster we have created it to be and I will be proud to tackle the issue and fix it. We do not need another generation of no child left untested!
---
Thursday, October 17, 2019 12:00 AM
What we need is to value all career pathways. We need to allow students time to explore their options earlier, so that by High School they are aware of all their options.
---
Tuesday, October 15, 2019 12:00 AM
Something for our students to look forward to.... and maybe some good volunteering opportunities? Exciting news!
---
Sunday, October 13, 2019 12:00 AM
Another post about the fabulous Discover Your Future Event! Huge shout out to Fredericksburg Chamber of Commerce, all the schools, all the businesses, and all the volunteers that made this event possible and will no doubt make it even better even next year!
---
Saturday, October 12, 2019 12:00 AM
---
Friday, October 11, 2019 12:00 AM
This story is an example of showing students possibilities. A student is quoted as saying it is an exciting time to be in STEM! I agree! Students should be able to "see" themselves in STEM fields and have opportunities to explore careers. Such a great example Delta gives with this trip!
As a former math teacher and a self proclaimed STEMinist, I believe we need to be intentional about the introduction of STEM lessons early. They need exposure early so that girls and other under represented groups don't self select themselves out of the fields of Science, Technology, Engineering, and Mathematics.
Our area is filled with STEM jobs, we need to be building that talent pipeline.
---
Wednesday, October 9, 2019 12:00 AM
The editorial describes the issue, data as to the causes, and even offers possible solutions. The fact is that these are our children, and we must figure out how to accomplish the enormous task of getting them to and from school each day safely and on time. As your school board member, one of my top priorities is attracting, developing, and retaining bus drivers, teachers, administrators, and other school support staff.
---
Wednesday, October 9, 2019 12:00 AM
Another post about the fabulous Discover Your Future Event! Huge shout out to Fredericksburg Chamber of Commerce, all the schools, all the businesses, and all the volunteers that made this event possible and will no doubt make it even better even next year!
---
Tuesday, October 8, 2019 12:00 AM
The words for the day at the 2019 Virginia Education and Workforce Conference are TALENT, WORKFORCE, EDUCATION, and PARTNERSHIPS!
I believe understanding this is key to moving our educational programs forward.
Additional words include, ACCESS, OPPORTUNITY, and AFFORDABILITY.
As your school board member, I will make it a priority to build these partnerships, communicate opportunities, and increase access for all students.
---
Monday, October 7, 2019 12:00 AM
Amazing stories happen everyday in our schools! It sure is great when they get a larger audience! Homecoming week will be remembered for more than just football games and silly dress up days at school for these brothers!
---
Monday, October 7, 2019 12:00 AM
I believe the tone at the top can change and we can do better. Retention isn't just a Stafford problem, but we can make Stafford the kind of place that educators want to come to, and want to stay. I am so proud of every single educator who steps out to fight for better for their students.
I have a plan for how we address recruiting, developing, and retaining our educators. We didn't get to this point overnight and it will take time and commitment to make things better. All that is needed is the intentional effort and the decision that we simply can not ignore the issue any longer.
---
Friday, September 27, 2019 12:00 AM
Former Stafford School Board member, David Kerr writes about the troubling trend of retaining quality teachers and support staff. This is one of the most pressing issues for SCPS. We must find a way to stop the mass exodus.
Compensation is a huge part of this, but I believe we must also address the working and learning conditions of our schools. I have long supported school climate surveys that gather data. We need to stop some of the guessing about "why" it's happening and start dealing directly with the work of creating solutions. For years I have heard anecdotal stories from hours of attending public comment sessions at Stafford school board and board of supervisors meetings. Our teachers, paras, bus drivers, and other staff have continued to show up and tell their stories and articulate why they will leave.
One statistic that tells a great deal is the number of educators who live in Stafford and work in northern school districts. This illuminates that it's not really that we have a shortage of teachers. We just have a shortage that have chosen to work where they live. I believe that there are things we can do to create the kind of work climate that will make our teachers and ESPs want to stay. What makes them more motivated to deal with the traffic and pass our schools along their commute? Have we asked them?
I'm particularly grateful that the article mentions the role administrators and evaluation play in retention as well as parents and the community support. We should not just be looking at the success of students on tests as the sole measure of how a school is performing. Looking at multiple measures and indicators of how a school is doing and what kinds of resources and supports are needed in order to improve student performance would be a far better use of our time.
I also left my SCPS classroom. It was partially because I was a candidate for school board, but it was also because I wanted to continue to be an advocate for my students and colleagues in a different way.
When I taught in a surrounding district I was struck at the new teacher orientation how they stressed they wanted educators to "Work Here, Live Here, and Thrive Here." That message resonated with me.
I believe our community members support the work of our schools. I think they want to see our educators and students THRIVE. In order to do this we must address what our staff needs in order to feel supported in their work.... and then put those resources in place.
---
Thursday, September 26, 2019 12:00 AM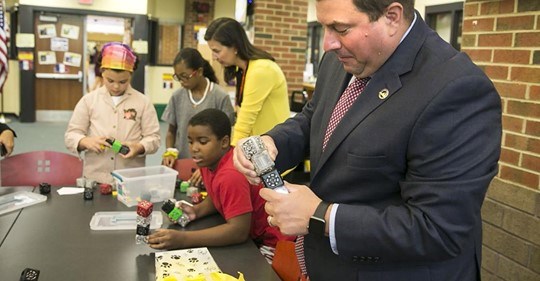 Dr. Lane, State Superintendent of Education, visited Fredericksburg City Schools but the message about needing additional social workers, and CTE staff is not a problem isolated in Fredericksburg. All school divisions are competing for talent.
It is time for Stafford to think about how we can expand our CTE programs and also how we can nurture and begin some "grow your own" programs.
We need Teach For Tomorrow programs in all our high schools to address a growing shortage of educators.
---
Tuesday, September 24, 2019 12:00 AM
I'm glad to hear that the mental heath and wellbeing of students is getting more attention at the state level.
Last year a good first step was taken by increasing the number of school counselors. There were also changes to how counselors spent their day.
I believe we have some work to do on the local level when it comes to addressing the mental health needs of our students and families.
Connecting resources available in the community and building stronger partnerships locally is something I have been discussing and getting feedback on as I talk to parents.
I see other divisions being more intentional about this work and I believe we have the opportunity to grow on this issue.
---
Tuesday, September 17, 2019 12:00 AM
The number of teachers willing to accept poor working conditions is shrinking. The lack of autonomy and support, and not having educational leaders who seek educator's feedback and input about policy and curriculum decisions is contributing to the problem.
I don't really like to use the term "teacher shortage," because there are a number of teachers who have made the conscious choice to leave the profession because of these conditions. Improve the conditions and you have the possibility of them returning.
The pool of students choosing a teaching career is shrinking because they clearly see that the cost of tuition and student debt they will incur is not proportional to the pay upon graduation. They also see the working conditions and determine they want a better quality of life. This coupled with the expanding options and types of jobs that give people more flexibility and allow millennials to feel mission driven in their work is exacerbating the problem.
It will be school divisions that attract young people to the teaching workforce that thrive in the future. Even more important perhaps is that the school divisions that are successful in keeping them will excel. That means addressing the leaking bucket of teachers at multiple holes. I have ideas about this. Ideas grounded in research and best practice, not just lip service and talking points.
Let's start with electing school division leaders that seek to empower the teachers because they have been in the classroom themselves, and understand the challenges and opportunities.
Let's be intentional about generating interest in educational careers while students are in our high schools and support them in college with scholarships, internship opportunities, and promise of a job upon graduation.
Let's listen to those charged with educating our kids and when they bring challenges to the attention of administration and the school board let's make a process to address them.
This is the way we compete and outperform other school districts.
Attract Talent.
Create a working environment they don't want to leave.
Reward Experience and Innovation.
Collaborate to continually improve.
---
Monday, September 16, 2019 12:00 AM
As a former special education teacher, I was so impressed at how the community came together to support the entire family and wish Brian a very Happy Birthday.
I was able to talk to his mom for a few minutes at the event and watch her be interviewed by a DC news channel. Brian was excited to sit in a fire truck and police car, and hang out with the K-9s. It was a wonderful party - pulled together by some caring individuals who saw a need and sprung into action.
Sometimes we just need to stop and appreciate all the heroes we have living and working around us! I talked to the camera man for a few minutes as he was packing up to leave and you could tell he was thrilled to be there to capture the moments as well.
Thankful for the village, and hoping we just made the world a little more inclusive. Happy Birthday Brian!
---
Saturday, August 17, 2019 12:00 AM
So glad they are going to start the conversation about this. My question is why has this not already been a priority? Particularly because some of these schools have already had major renovations or have been scheduled for renovations on the CIP. One of my biggest priorities is improving the process for creating a priority list for our existing schools and how new schools are being added.
---
Friday, August 16, 2019 12:00 AM
School safety is my first priority, all children and staff deserve a safe learning environment.
---
Monday, August 12, 2019 12:00 AM
Congratulations to all the students and staff as they open the new Moncure Elementary. I remember being 5 years old and being the first kindergarten class to open a new elementary school. The excitement is contagious! This county continues to add approximately 200 new elementary students each year and we need to have elected leaders who are committed to planning accordingly for the projected growth. Our kids need a strong voice on the school board advocating for them to have great spaces to learn in.
---
Tuesday, August 6, 2019 12:00 AM
In today's world you are either trending up or down. I want to see the downward trend reversed and I believe I have what it takes to restore the reputation for excellence in our school system.
---
Tuesday, July 9, 2019 12:00 AM
Our county needs a voice on the school board who is familiar with policy at both the state and national levels and how those decisions will impact the local level. I also believe we need strong communication about how the decisions impact our students.
---
Wednesday, May 8, 2019 12:00 AM
This budget is a huge step in the right direction. We must find a way to leave the politics out of the process and work together to solve real challenges we have with funding the growth in our schools. I am thrilled that all county employees will see increases in salary, but in order to be competitive with northern VA we must be work on long term solutions. Continuing to increase taxes to meet the needs of the county is not a sustainable model.
---
Saturday, April 20, 2019 12:00 AM
Shares information about local races. If you have questions about registering to vote, where to vote, or other related issues please reach out to our campaign and we will be happy to help get you the information you need.
---
Sunday, April 14, 2019 12:00 AM
I believe that we need to empower our Stafford students to see how they can make a big impact on the world. This is just one example describing how elementary students can get involved in improving outcomes for their community.
---
Wednesday, March 27, 2019 12:00 AM
Link to redistricting map and information.